In 2017 election of Gaurigunj Rural Municipality (Jhapa district), candidate Baburaja Shrestha of Rastriya Prajatantra Party (RPP) secured 3,740 (27.98%) votes out of total votes of 13,365 and was elected as a Chairman. The first runner-up candidate was Phulwati Rajbanshi of Nepali Congress Party (NC) who secured 3,453 (20.19%) of votes. The rest of 3 candidates for the position of Chairman secured combined 6,172 (23.09) of votes.
Similarly, for the position of Vice-Chairman, candidate Dipindra Thapa of Nepali Congress Party (NC) secured 3,414 (26.12%) and was elected as a Vice-Chairman, while Manika Devi Rai of Nepal Communist Party (Unified Marxist-Leninist) (CPN (UML)) secured 2,870 (17.41%) of votes and came in second position. Other 4 candidates who contested for Vice-Chairman secured combined 6,786 (25.96) of votes.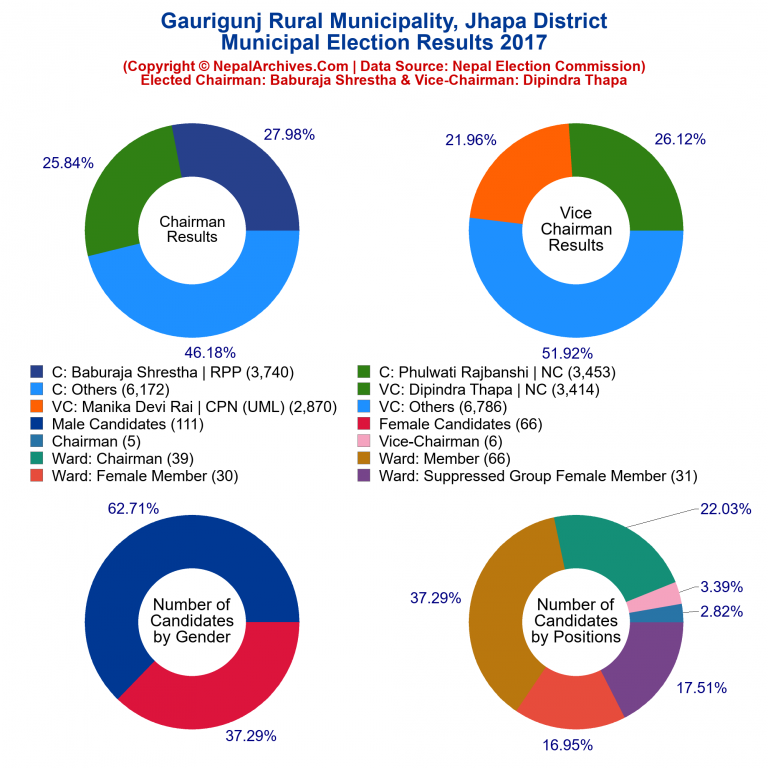 As illustrated in the pie chart, there were total 177 candidates contested in various positions with gender ratio of 111 (62.71%) males and 66 (37.29%) females. Moreover, there were total 39 candidates contested for ward chairman positions in 6 wards. Same as, total 66 candidates had contested for ward member positions while 30 females and 31 females from depressed group (dalit) had contested for female member position in each ward.