In 2017 election of Balan-Bihul Rural Municipality (Saptari district), candidate Dayananda Goeit of Snghiy Samajbadi Form Nepal (SanSFN) secured 2,238 (29.15%) votes out of total votes of 7,678 and was elected as a Chairman. The first runner-up candidate was Jitendra Kumar Yadav of Nepali Congress Party (NC) who secured 1,322 (13.33%) of votes. The rest of 7 candidates for the position of Chairman secured combined 4,118 (26.82) of votes.
Similarly, for the position of Vice-Chairman, candidate Rubi Gupta of Snghiy Samajbadi Form Nepal (SanSFN) secured 1,802 (24.37%) and was elected as a Vice-Chairman, while Bimala Devi Yadav of Rastriya Janata Party Nepal (RasJPN) secured 1,623 (17.65%) of votes and came in second position. Other 7 candidates who contested for Vice-Chairman secured combined 3,970 (26.84) of votes.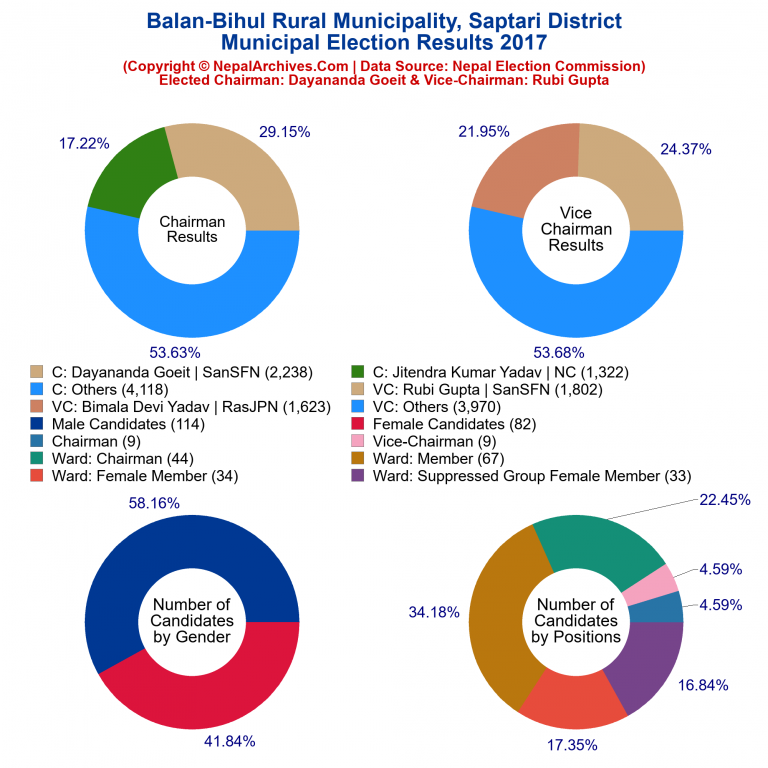 As illustrated in the pie chart, there were total 196 candidates contested in various positions with gender ratio of 114 (58.16%) males and 82 (41.84%) females. Moreover, there were total 44 candidates contested for ward chairman positions in 6 wards. Same as, total 67 candidates had contested for ward member positions while 34 females and 33 females from depressed group (dalit) had contested for female member position in each ward.